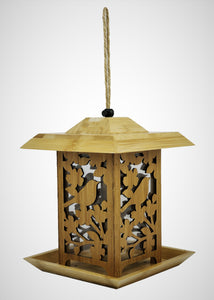 A lovely way to attract and feed wild birds in your backyard or garden.  Birds love to get feed, especially in the colder months and this will look lovely hanging in the garden
Just remove the lid and fill with wild bird seed (fine or coarse) energy food (truffles, pellets, cakes or logs), fruit and replace lid.  Hang out of reach of cats and if possible close to trees and shrubs. 
Clean regularly to avoid the spread of disease. Always keep food dry - don't allow it to go mouldy, as rotten food has the potential to be harmful to wild birds.
Made from earth friendly bamboo, perspex and twine.  Measures: 17.2cm x 17.2cm x 22cm