WELCOME TO
The Garden Party
The best gift shop in New Zealand
You can now buy the finest of The Garden Party products on line, from the comfort of your own home. We have put together a comprehensive range of our tried and true best sellers. We will gift wrap and card your gift and send either to you or straight to the lucky recipient.
We have a store in Ponsonby Auckland and we specialise in unique and beautiful gifts made in New Zealand. We hope by offering the option of online shopping, we will make it even easier for customers to keep track of our rapidly-changing stock.
The website features our best-selling, (mostly) New Zealand made ranges. After all, we want to help and promote our local designers, artists and crafts people, as it is their work that makes The Garden Party an interesting and eclectic place to shop. But we have also included some non-New Zealand products: tried and true favourites that The Garden Party staff and our customers have enjoyed using or gifting to people.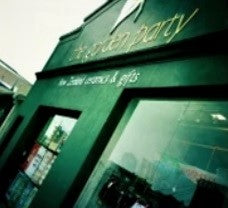 How The Garden Party Came To Be
The original Garden Party shop opened in Ponsonby, Auckland in 1994. The idea came about when locals Pam Lim and her sister, Diana Firth, wanted to find somewhere to sell their hand-painted pottery plates. Pam called her daughter Anna, who was in India at the time, and suggested they start up a ceramics shop.
Anna came home, and the mother and daughter team found an old villa on Ponsonby Road and renovated it into a stunning shop with a courtyard garden.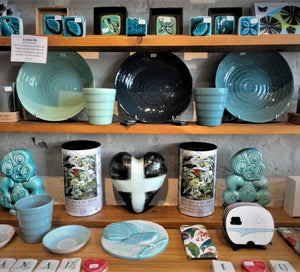 The Idea Grew
Although, the original idea of The Garden Party had been to sell only the hand-painted plates, it quickly grew to sell all sorts of unusual and beautiful objects. Lots of local artisans and crafts people bought their products to the shop to sell.
It grew into a shop specializing in and championing New Zealand designed products. We want the shop to be entertaining. We love it when we hear the customers giggling at our stock. We're always getting in new products and changing, so it's different every time customers come in.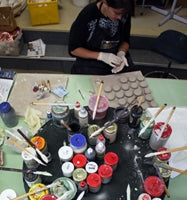 The Unusual To The Extremely Popular
We have always tried unusual products. We have even had a beautiful hand decorated coffin for sale in the shop once. We hand painted the plates in the back room and after a few cramped years of doing this the ceramics were turning out to be extremely popular and we needed more space, so we moved the shop next door, losing the garden, but gaining enough space for a shop and a small ceramics factory.
After a few years The Garden Party Factory became big enough to become an entity in its own right and is now located on beautiful Waiheke Island.  It supplies restaurants and shops  with their beautiful range of hand crafted pottery made on the Island.
Here is their website: 
https://www.factoryceramics.co.nz/
We've moved but we are still passionate supporters of NZ Made
We have moved across the road from our original site.  After 25 years we thought it was time for a fresh new change. We are now in a lovely light-filled shop at 130 Ponsonby Rd, near Icebreaker.  
Pam retired and Cherie Morley, a retail specialist, came aboard as a business partner.
Both Anna and Cherie are huge advocates of NZ made.  We are lucky to have a large pool of talented, creative suppliers that keeps our shop always fresh and different.
However, in our quest for a truly eclectic mix, we also scour the world to find unusual products to compliment the local stock.
Please come in, explore, enjoy and have fun in our shop and on our website.  Any questions or requests, just sing out, we are here to help.