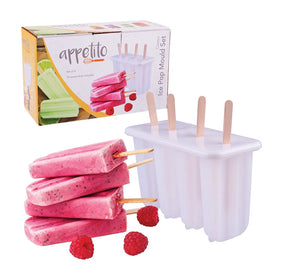 Make healthy and tasty ice blocks with this Classic Ice Block Mould Set.
You can make a variety of delicious icy treats using fruit, fruit juice, yoghurt, milks, milo...Get creative and invent new flavor combinations.
This mould set makes it easy to make treats for the kids without having to go to the shops.  It contains 12 wooden sticks, a mould which makes 4 ice blocks at a time and a tray to prevent leakage or spills in the freezer.  The mould measures approx 16 x 9.5 7cm.
This makes a great gift for families and children.  Get the kids involved and they can make their own yummy cool treats this summer.